Volcano Making Kit

:

Inspiring kids to learn has never been more fun with this STEM science kit that allows kids to learn about volcanic eruptions.

Fun Dinosaur Toys

:

You can experiment with dinosaurs that will witness the eruption of a volcano, allowing young scientists to focus on the joy of exploration and discovery.

Science Experiments for Beginners

:

Help kids learn the science behind the experiments, teach them about chemistry, geology, and earth sciences.

Homeschool Learning

:  It has kid-sized eye goggles for protection and allows kids to enjoy the magic of discovery together.

Super Value Pack

:

12+tools, combined with a fun and simple instructions book to make over 20 experiments for hours of fun education at home or in the classroom.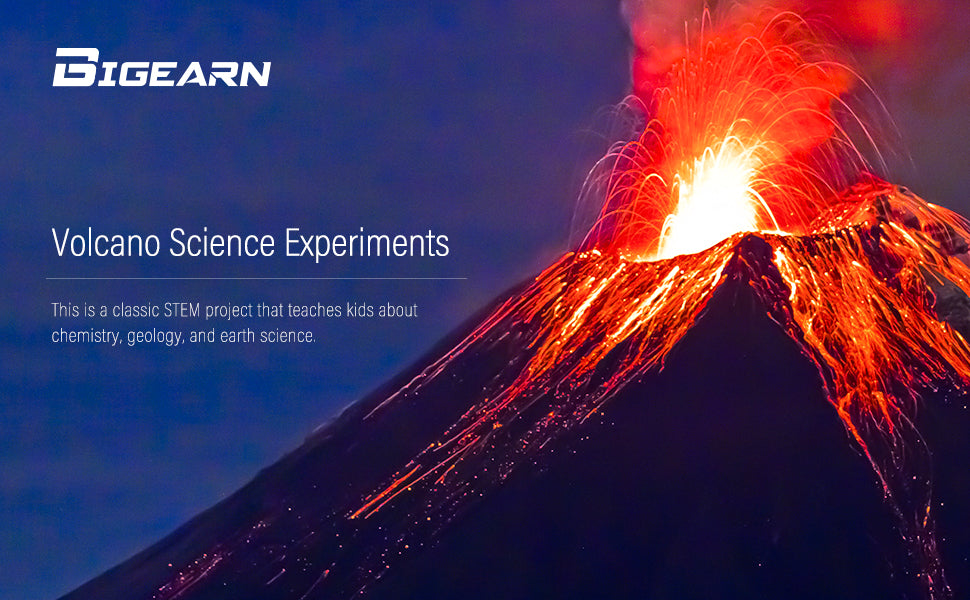 Premium Volcano to Inspire Any Young Scientist!
Volcanos + Eruptions = Awesome Science Fun!
Science revealed 20 amazing experiments. STEM learning for soon-to-be scientists, homeschooling classes, school science fair projects, and more! There are so many fun activities in this kit that it's perfect to share. It's a great way to spend quality family time together or to use it as part of your home school curriculum. Plus, you can learn the science behind volcanoes with the help of our full-color learning guides.
Make your own volcano and watch as it erupts with bubbling, fizzing "lava".
Package Includes:
Volcano 1

Plastic cup 2

Plastic dropper 1

Spoon 1

Stirring rod 1

Goggles 1

NaHCO3 Sodium bicarbonate powder (red and blue) 2

Citric acid (C6H10O8) 2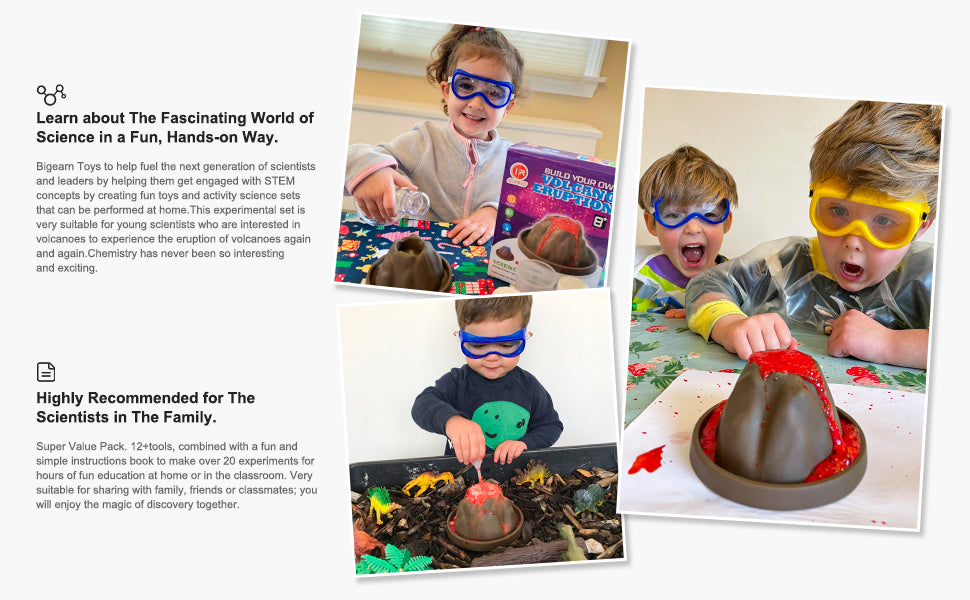 | | | |
| --- | --- | --- |
| 1. Can the same volcano be used more than once? | 2. How many eruptions can you get out of the eruption powders included? | 3. Can this be enjoyed by two without fights? Or is it better to buy two of the same thing? |
| Yes, our volcano mold is completely reusable! It comes with two reusable volcano bases. Be sure to rinse thoroughly after your experiment, before storing for later use. | We ended up with more than a dozen good eruptions,this volcano making kit can do more than 20 experiments. | Can enjoy it. There are two volcanoes so they can be doing individual experiments at once. Or they can be assigned different parts of the experiment. Both kids can participate with just one kit. They can work together and learn to be a team! |